About Us
Doozy Vape Co. is a Yorkshire-based family business specialising in unique, flavoursome, high-quality juices.
Established in 2014, Doozy Vape Co launched with a small selection of flavours, this has now evolved into 3 enticing new ranges, Fruit, Cool & Dessert. With the brand now firmly established, Doozy is continuing to expand its range and now has a flavour for every vapers taster. Alongside the cool and fruity flavours that helped establish the Doozy brand, there are four other ranges; Salts, Sweet Treats, Juice Junki & a premium tobacco line Baccy Roots. We offer both TPD and Short Fill bottles with zero-compromise on quality and safety.
Our knowledge coupled with creativity and attention to detail is why Doozy continues to evolve and grow within the UK and worldwide.
Imran Ismail
CEO / Founder
Imran is the Founder, CEO & heartbeat of Doozy Vape Co. He started the company from his kitchen table in 2015 and transformed it into an internationally recognised brand, now stocked with key FMCG suppliers such as the likes of Walmart and vape stores globally. The journey began when deciding to make a change in his lifestyle, quitting cigarettes for a healthier alternative. Doozy's inspiration came from a lack of quality flavours and American E-Liquids dominating the market, so the challenge was to provide a better offering with the end consumer in mind. Imran's vision is to always remain ahead of the curve whilst leading the company with a dynamic approach. Imran is responsible for the overall success and growth of the brand establishing the companies overseas presence increasing its global footprint. As a meticulous individual Imran leads by example and is a big advocate of constantly striving to be the very best you possibly can by curating a culture of being 10% better each week in everything he does.
Mohammed Vhora
Director of Sales
As Sales Director for Doozy, Mo manages global sales efforts and oversees an international team of reps who are pushing Doozy products into an ever-increasing range of territories. Mo regularly meets with suppliers and attend expos in all markets, and when not eulogising for Doozy he can be found checking out F1 (supporting Lewis Hamilton and Mercedes) and kicking butt on Street Fighter 2.
Jorge Chernac
Business Development Executive - South America
I'm 24 and of Argentinian origin. I love to travel and found myself in Paraguay where I study part time. My love is vaping, it's awesome being involved with an international company where I can help shape the strategy for South America. Apart from vaping, I love to sing and hit the weights in the gym.
Ashley Rogers
Business Development Executive
Ashley loves his career at Doozy Vape Co. Its an engaging and challenging role at times, but meeting with local vape shops who know and love our liquids make it all the more interesting. Previously Ashley worked for Ferrero and yes, in case you're wondering, he does miss his chocolates!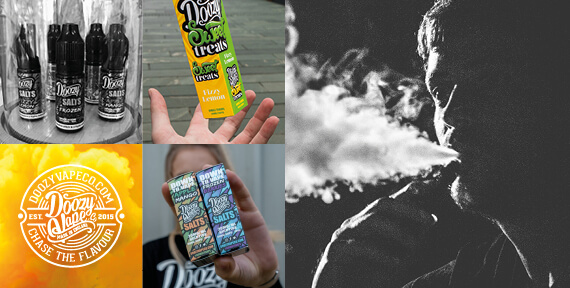 Zayneb
Social Outreach Manager
Zayneb passion for fashion was fuelled by working with a number of giant retailers such as Debenhams plc. With a keen eye for detail, working for Doozy fits perfectly. Zayneb's role is the outreach manager. Being a global brand its imperative that someone is able to lead communication across the board with our Doozy family! When Zayneb is travelling she can be found gourmet dining!